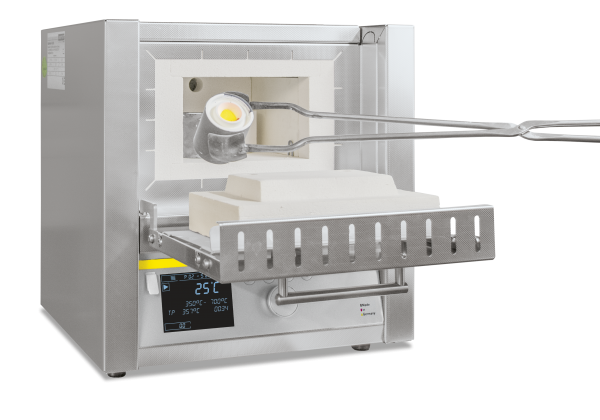 Muffle Furnaces
Models
L, LT, L(T), LE, LV and LVT
Description
Muffle furnaces from Nabertherm are reliable and versatile laboratory furnaces with a maximum temperature of 1300°C. The muffle furnaces come in different sizes and are clad in fiber or reflective brick insulation to effectively achieve a high and even working temperature. Likewise, the oven door can be opened downwards (L) which gives a good working surface or upwards (LT) with the warm inside facing away from the operator.
The muffle furnace is operated via a controller that allows you to store product recipes, make temperature profiles, manage different users and monitor the heat treatment process through your smartphone.
Air supply takes place through an adjustable inlet through the furnace door and exhaust gases leave the oven chamber through a valve at the rear of the furnace. It is also possible to build an integrated chimney with or without an exhaust fan and to integrate a protective gas system for more demanding processes or where your product emits toxic or flammable vapors.
Areas of Application
Muffle furnaces are perfectly suited for a large number of processes in materials research and heat treatment. For example, drying powders in the pharmaceutical industry and determining the moisture content of samples as part of quality control or curing materials and adhesives for components in the manufacturing industry.
Muffle Furnaces in Additive Manufacturing, 3D Printing
An interesting area of application is in additive manufacturing, where components printed in 3D undergo a heat treatment to remove organic binders. These are evaporated during the process and are taken care of by Nabertherm's highly sophisticated exhaust gas cleaning system that each furnace can be built with to make the heat treatment process safe.
Muffle Furnaces in Dental Applications
Muffle furnaces can also be used in the daily operations of the dental laboratory in burn-off processes since they are relatively cheap compared to other dental furnaces and can also achieve high temperatures of up to 1300°C.